Thursday, March 19, 2020 from 4:00pm – 7:00pm
Crowne Plaza
5 Middlesex Canal Park Drive
Woburn, MA 01801
Please join us at the Crowne Plaza Boston/Woburn Hotel for the first Regional Multi-Chamber Networking Event. Our Annual Multi-Chamber event draws over 150 participants from the chambers along the Route 128, 3 and 93 corridors. This is an event you do not want to miss.
Optional Presentation: 4:00pm- 4:45pm
Cyber-security in 2020 and beyond - issues & solutions for the business community
Networking: 5:00pm-7:00pm
………………………………………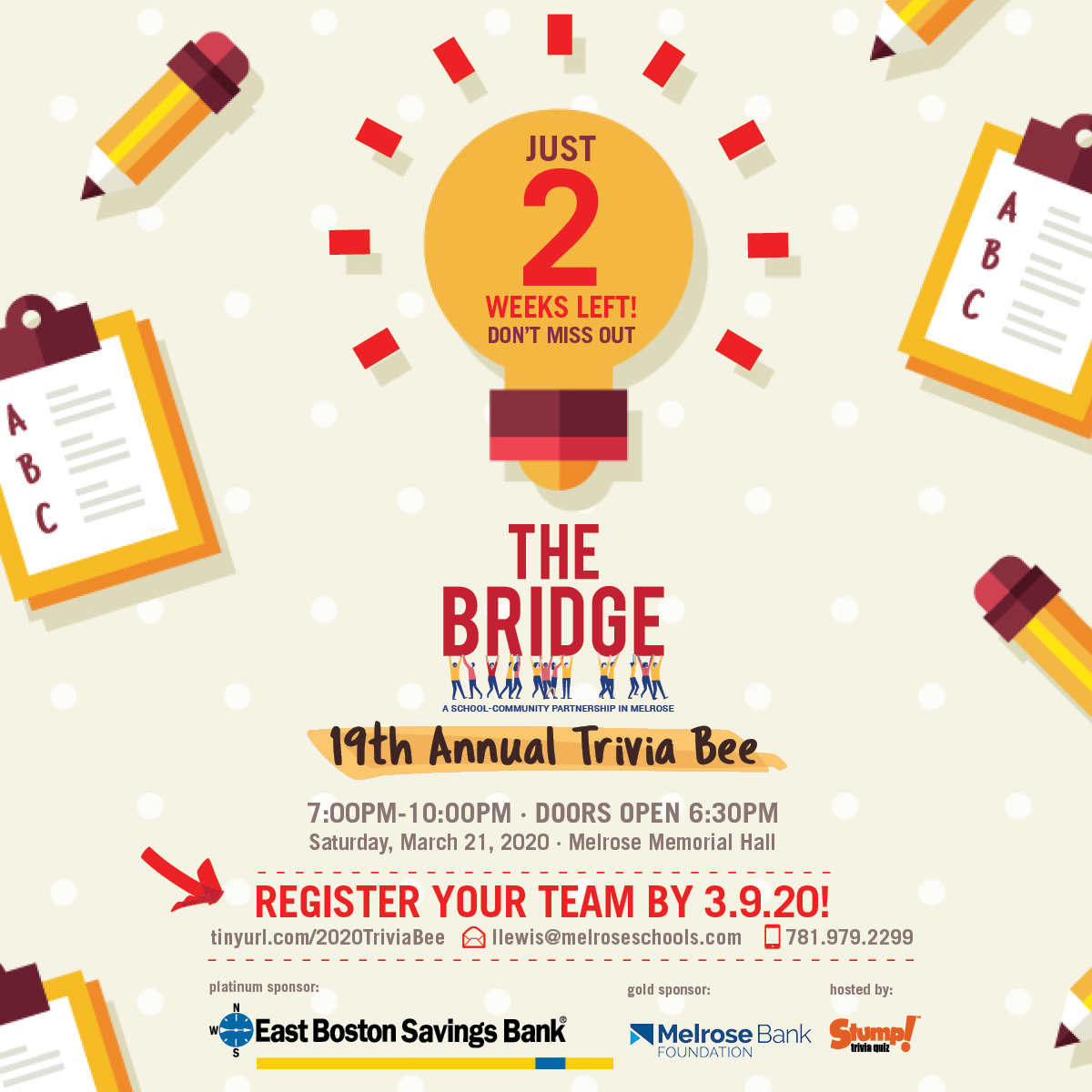 Saturday, March 21 from 4pm - 10pm
Melrose Memorial Hall
590 Main Street
Melrose, MA 02176
Support The Bridge at the 19th Annual Trivia Bee! Join us for an evening of dynamic, pub-style trivia, hosted by Stump! Trivia again this year, as well as raffles, a silent auction, and of course food & drink.
The Bee is The Bridge's one major fundraiser for the year, and it supports the work of The Bridge: A School/Community Partnership, the non-profit organization that recruits, screens, trains, and places volunteers in the Melrose Public Schools. Our philosophy is that young people greatly benefit when community members contribute their time, talent, and expertise to assist in public education.
………………………………………

Tuesday, March 24 from 8am - 9am
Melrose Memorial Hall GAR Room
590 Main Street
Melrose, MA 02176
The Melrose Chamber of Commerce, Zero Waste Melrose, and the City of Melrose invite all business owners in Melrose to a free, public information session on the new polystyrene ordinance that will take effect on July 1, 2020 in Melrose. The ordinance eliminates foam and rigid polystyrene in restaurants, stores and schools. It applies to food/beverage disposable containers. Attendees will learn more about complying with the ordinance.
All Melrose Businesses are welcome to attend.
Read the complete ordinance here.
………………………………………

Thursday, March 26 from 5pm - 7pm
Wakefield Co-operative Bank
342 Main Street
Wakefield, MA 01880
Join the Melrose Chamber of Commerce, the Wakefield Lynnfield Chamber of Commerce and customers of fellow Chamber member Wakefield Co-operative Bank at the downtown Wakefield branch for an evening of food and mingling.
Expand your network by making new connections in our neighboring community and enjoy complimentary delicious food and drinks from Merrimack Ales and Espresso Dave's provided by our host, Wakefield Co-operative Bank.
This is complimentary event for Chamber members!
………………………………………

Sunday, March 29, 2020 from 10:00am - 2:00pm
Melrose Family YMCA gym
497 Main Street
Melrose, MA 0216
TerraCycle Collection of hard to recycle items
.............................................