Local events to kick off the New Year in Melrose and local surrounding towns (for more information see links below):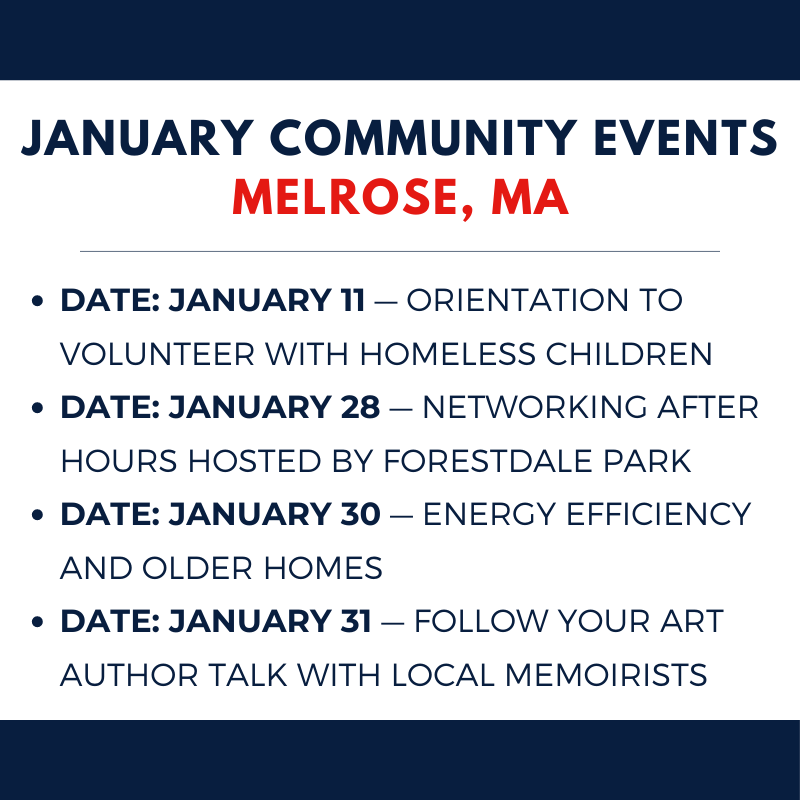 ………………………………………………………………………..
January 11, 2020, 10:00am:
Orientation to Play and Volunteer with Homeless Children
Saugus Public Library
295 Central Street, Saugus, Massachusetts, 01906
Horizons for Homeless Children, a non-profit dedicated to improve the lives of homeless children in Massachusetts, is seeking volunteers to play with children living in family homeless shelters in the Northeast region of Massachusetts.
………………………………………………………………………..
January 28, 2020, 5:30 – 7:00pm:
Networking After Hours hosted by Forestdale Park
Forestdale Park Senior Living Center
341 Forest Street, Malden, MA 02148
Join Melrose Chamber members and Malden Chamber members for our first Networking After Hours of 2020! Enjoy complimentary food and beverages courtesy of our host, Forestdale Park, and make some new connections.
………………………………………………………………………..
January 30, 2020, 7:00pm:
Energy Efficiency and Older Homes
Milano Center
201 West Foster Street, Melrose, MA 02176
Learn common sense ways to make an old house more energy efficient and hear about how Historic New England has made significant energy improvements to its properties without damaging historic fabric. RSVP by January 28, 2020
………………………………………………………………………..
January 31, 2020, 6:00 – 9:00pm:
Follow Your Art Author Talk with Local Memoirists
Follow Your Art Studios
647 Main St., Melrose MA 02176
Please join local writers for the next quarterly writing event at FYACS with Memoir writers Calvin Hennick and Mimi Lemay as they talk about writing from a personal place. Moderated by Melrose author and Memoirist Jane Roper. Register by January 30, 2020