Remember last summer? Every time we turned on the TV the weatherman was going on and on about the EXTREME DROUGHT we were having in Massachusetts. Did you wonder if the drought was over? To investigate we must first learn about the National Drought Mitigation Center and their use of a classification scheme known as the "US Drought Monitor". The Drought Monitor ranges from a "D-0" which is considered as "Abnormally Dry" going up to D-4 known as "Exceptional Drought". D-0 level droughts are the very beginning or the very end of longer term droughts and can result in short term dryness, slowed planting and growth of crops or pastures. A D-4 drought, however, results in widespread and exceptional crop/pasture losses, as well as major shortages of rivers, lakes, and reservoirs often resulting in local water emergencies.
So where do we fall here in Melrose? Looking back to last September (and at the graphic below), we were at the height of our drought we found that nearly 90% of Massachusetts was classified as a D2 "Severe Drought" and 52% (including almost all of northeastern Mass) was in a D3 "Extreme Drought". To reiterate, that is over HALF of Massachusetts at the 2nd most intense level that the US Drought Monitor recognizes right here at home! Believe it or not, only 42% of California was in an Extreme Drought during the same period!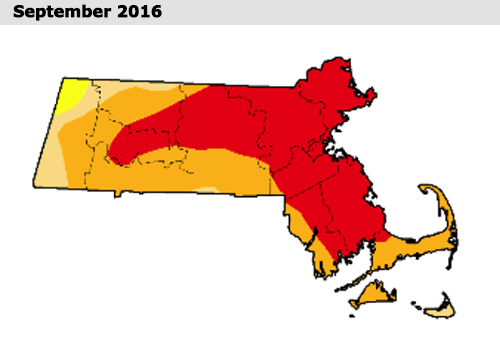 But what about today? We've had so much snow recently! Remember that over half of Massachusetts was locked in an Extreme Drought in late September, well now we see 51% under NO drought classification at all! Just look at the two maps, doesn't even compare! It's not just here, even California is in much better shape, over 76% of the state is under no drought classification.
Bottom line, we've made incredible progress over the last 6 months. Turns out all that snow in late winter and the recent heavy rains have been highly beneficial to us, but remember the summer typically brings more dry weather, so next time you see rain in the July forecast, it's not ALL bad!